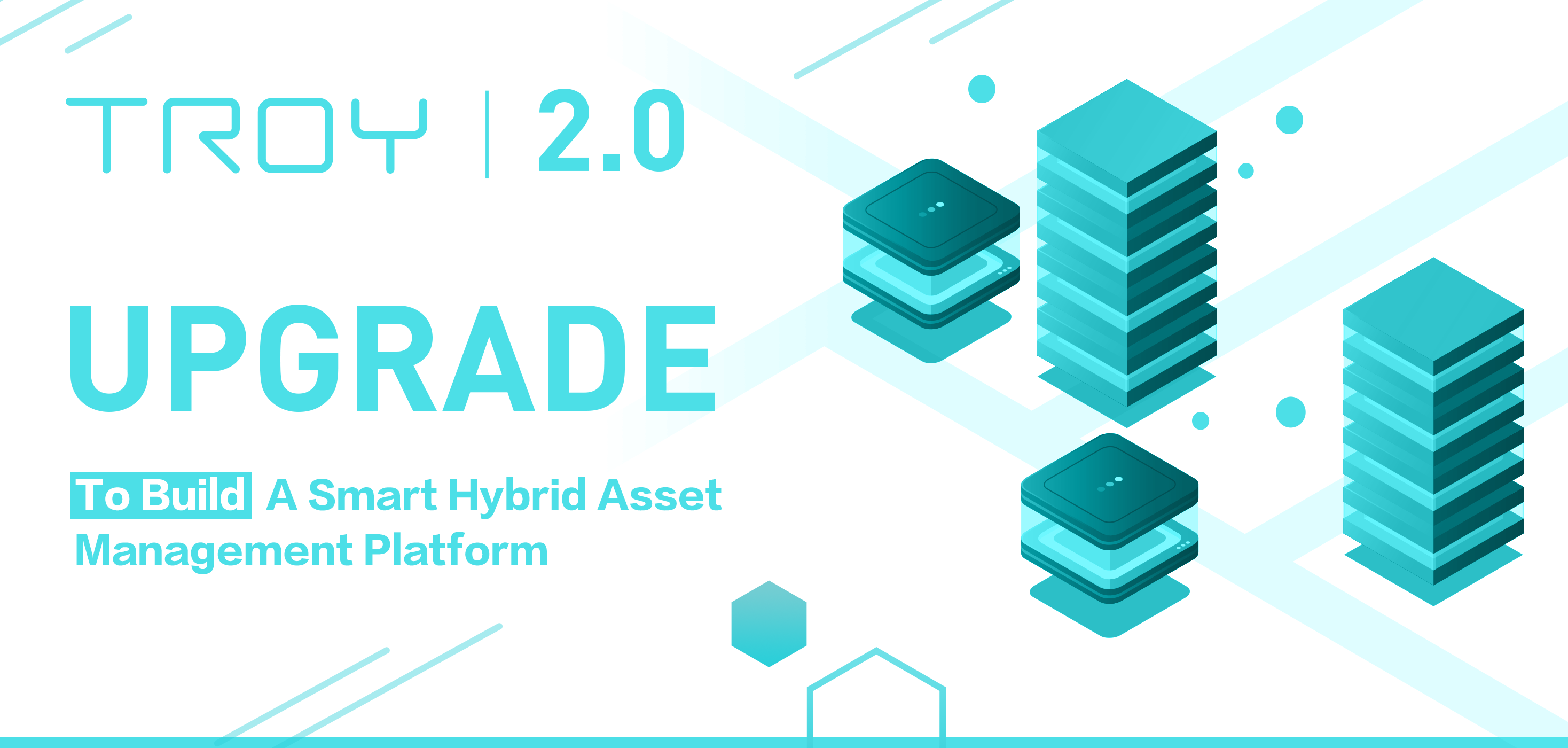 Examples of balance can be found everywhere, even in those places where you least expect them.
Dr. Patrizia Collard, The Mindfulness Bible
Background
Before the SEC's Investment Company Act of 1940, asset management had little structure and some participants operated in grey areas without having to disclose conflicts or bad practices. It was a fragmented and decentralized practice. It still is today, but with a clear and stringent protocol to follow.
TROY has a deep root in crypto asset management and trading. The already rolled-out brokerage services that were intended for the institutional clients and professional traders included a variety of features. Upon completion and given by the current market trend, the TROY team believes it is time to introduce TROY 2.0 — Smart Hybrid Asset Management Platform.
Born as a prime broker project, TROY now aims to expand its services to a broader crowd by providing a wide range of trading and management services, taking the essence from the well-established centralized finance sector and the fast-evolving open finance, from which the term "hybrid" descends from. To be hybrid is to reach equilibrium.
We would like to present to you two pieces of data and two studies to demonstrate why we are moving towards hybrid.
The DeFi crypto market cap is $12.31 B, a 4.15% increase over the last day (10/12/2020)
The global crypto market cap is $360.27 B, a 0.22% increase over the last day (10/12/2020)
In the "2020 Encrypted Financial Market Report" (case study 1), it states, due to the startling profit of liquidity mining, it is reasonable for centralized finance to dip its toes into this field. However, this does not mean it fully embraces the smart contract risk that may exist in the DeFi projects. The ultra-high APY of DeFi can hardly maintain its sustainability, so as an asset management platform, it simply cannot carry the aforementioned risks forward. However, there is a favorable possibility that crypto infrastructure builders should combine the user-friendliness of CeFi with the innovation of DeFi to unleash the power of open finance.
Reference: https://www.theblockbeats.com/news/20178
Last but not the least, in a McKinsey study (case study 2), whose intent is to help organizations evolve successfully as internal and external conditions change over time, indicates that companies should develop a protocol to strike the right balance between centralized and decentralized governance in today's market.
Reference: https://www.mckinsey.com/business-functions/organization/our-insights/to-centralize-or-not-to-centralize
With the substantial data and case studies pointing at the right direction, we believe a gap between the two fast-developing but polarizing crypto sectors ought to be filled for users in the middle ground to reach mass adoption.
TROY 2.0 hopes, by combining DeFi and CeFi, to achieve a balance between the polarized product-design philosophies and change the blockchain project image from a complete detachment from central governance, a random, loosely organized, casually pieced together product to a product that is driven by its strong adherence to inclusivity, profitability, urge to serve and security.
We believe diversification equipped with security is the key to you being able to take advantage of every opportunity without incurring too much risk. We believe a combination of decentralization and centralization
Objectives
TROY 2.0 is still oriented towards building a product that benefits its users and offers them a one-stop crypto service, from trading, swapping, yield-generating options from centralized/decentralized finance, staking, to asset management so that whoever uses it can maximize the earning potential.
After all, the ultimate goal of transactions and value management is to extract as much value as possible while retaining risk control.
Products Details
A state of equilibrium is a state of balance or a stable situation where two opposing forces (decentralization and centralization) coexist.
To achieve this, the tool to be developed must allow users to enjoy an open and autonomous trading experience. The code should specify how every possible dispute gets resolved, and the users can maintain control over their funds at all times. On the other hand, it needs to have a central governing agent to ensure swift execution, a clear chain of command, and the most perceivable — low transaction fee. Therefore, we believe the vision of TROY 2.0 — A Smart Hybrid Asset Management Tool will include the following:
Liquidity Aggregator
TROY 2.0 liquidity aggregator will aggregate liquidity from major DEX's, centralized exchanges, liquidity pools, and other necessary sources such as OTC into one global pool to ensure the order flow enters through a single point where users can enjoy low-slippage, high liquidity trading/swapping.
Centralized Liquidity: Binance, Huobi, OKex, etc.
Decentralized Liquidity: Uniswap, Curve, Balancer, etc.
Flexible Earn
With it, users can claim a return on the tokens while maintaining the right to move them in and out at any time.
Yield farming: It will select the most profitable and securest yield farming projects for users to participate in. The staked tokens will be locked in a pool account and unlocked automatically when the campaign ends.
Dual savings: Users can commit and lock the crypto asset into a yield campaign. The final return on the assets will be contingent on how the crypto market moves since the day you invest. If the market price of your asset increases and your return exceeds the savings rate, you will be able to enjoy the higher amount. If the market price goes down or your final return does not exceed the savings rate, you will still be eligible for the agreed-upon yield from your assets.
Locked savings: It promises the investor a fixed/agreed rate of interest. In return, the investor agrees not to withdraw or access their funds for a fixed time.
Quant Strategy
TROY 2.0 will launch a series of quantitative trading strategies including:
Arbitrage strategy: It comprises cross-market arbitrage, triangular arbitrage, future-spot arbitrage, and calendar-spread arbitrage. Due to the inherent price discrepancy between markets, trading pairs, and the price base difference between different futures and spot markets of different periods. Arbitrage strategies are designed to absorb the price difference.
Trend tracking strategy: It is a strategy that involves using technical indicators to identify the direction of market momentum. It is based on the fact that markets have intrinsic predictability. By analyzing historical data and price movements, one will be able to have a prognosis of what could happen in the future. Trend trading is usually considered a mid to long-term trading strategy, but it can, in theory, cover any time frame, depending on how long the trend lasts. By running mathematical algorithms, it detects and chooses a particular trend indicator to lock in a profit and exit the trade.
Token Empowerment
Through the above new initiatives, we are hoping to empower $TROY in the following areas:
Liquidity and holder addresses: With TROY 2.0 top liquidity aggregator, the team will enable $TROY swapping/trading with other tokens/coins to increase its liquidity and token holders address number.
Trading fee discount: $TROY holders will enjoy preferential fee rates when using TROY 2.0 swapping/trading services and quantitative strategies.
Vote/governance: $TROY, as the native tokens, will act as the medium of governance power. Token holders enjoy the right to voice their proposals to the operating team and change the project development if a majority of voters see it fit.
TROY 2.0 Road Map
Below lists each step we are going to take to reach where we plan to be. We hope, through it, you can have a clear visualization of the future TROY.